Anti-Fatigue Matting for a Variety of Applications
Anti-fatigue mats are indispensable where workers stand to help relieve leg, foot, and lower back pain and fatigue. It has been shown through research that a more comfortable worker is a more productive worker. Furthermore, there are fewer injuries with appropriate matting at workstations. Anti-fatigue mats are beneficial to use in any commercial, industrial, office, retail, kitchen or food service workplace. For our complete line of anti-fatigue matting, visit our website: AntiFatigueMatsUSA.com.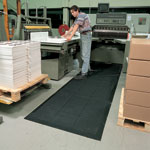 This section hosts a number of matting options for industrial and commercial applications where work area floors don't or rarely come in contact with liquids. Options include foam and rubber based mats. Most of these mats are available in a number of stock rectangular sizes and in longer rolls.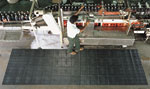 These mats are suitable for both wet and dry areas. In areas where work areas may be exposed to liquids, anti-fatigue mats with holes for drainage are recommended to reduce the chance of slip / fall injuries. These mats are made of durable rubber or nitrile rubber material and are available in a variety of stock sizes.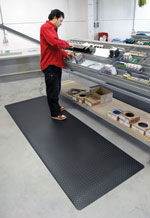 When working with sensitive electronics static can damage or render products useless if not controlled. our anti-static mats improve worker comfort, while protecting your valuable electronics.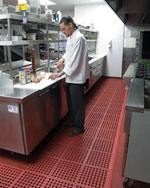 Specially designed to stand up to the harsh and/or slippery environment of today's kitchens, bars and food processing plants. These mats feature holes for drainage and slip resistant surfaces. This matting is available in nitrile rubber work area floors are regularly exposed to grease.
When working with electric switches and other dangerous, high voltage equipment, switchboard matting provides an insulative, non-conductive barrier between personnel and the floor to reduce the chance of severe shock.