Cow Mats & Livestock Flooring
When it comes to cows, it is very important to keep them healthy and productive. Studies have shown that healthy and comfortable cows are produce more milk. Our cow mats are designed to keep your cattle comfortable, while reducing hoof injuries and bacterial infection. Similarly, these mats are perfect for all kinds of livestock. To see our full line of cow matting, please visit our website: CowMatsUSA.com.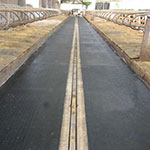 It has been shown through research that one of the biggest causes for cow lameness is inadequate flooring leading to leg and hoof injury or disease. Our rubber cow runners, rolls and interlocking matting bring the comfort and traction that your cows need to be more productive and healthy. Keep your cows comfortable while feeding and walking to and from stalls, milking parlors and feed areas.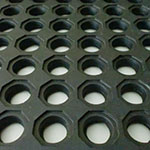 Made of resilient rubber, our parlor mats will not absorb liquids or harbour bacteria making them ideal for cow milking parlor. We have matting to fit in all kinds of cow parlors including rotary parlors.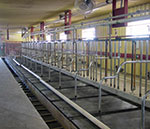 Our cow mattresses offer unparalleled comfort, function and durability for your free stalls or tie stalls. It has been shown through research that comfortable cows are productive cows, so make your cattle as productive as they can be with our high quality mattresses. Available in both continuous mattress systems and comfort pads.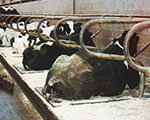 Whether its free stalls or tie stalls, our cow stall mats can be made to fit your stalls perfectly. These mattresses require less bedding, are easy to clean, and made with the ruggedness that only rubber can offer.