Flooring for Weight Rooms, Fitness & Aerobics
We have a complete offering for all of your fitness center needs. From our rugged rubber interlocking mats to our firm, but soft EVA foam tiles, we have you covered! Select a category below for more information. For our complete lineup of fitness flooring, please see: GymFitnessMatsUSA.com.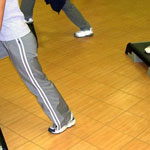 Our shock absorbing and resilient aerobic flooring is perfect for commercial and residential applications. We have a range of colors and styles to suit your decor.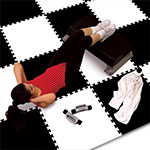 We have a variety of exercise and fitness flooring products to suit your need. From extra soft tiles for ground exercises to resilient rubber for superior wear resistance and foot comfort we have you covered.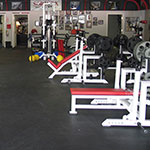 Our durable, wear resistant and resilient gym facility flooring is ideal for weight rooms and cardio equipment areas. Our mats are designed to protect your gym floors while providing a slip-resistant, comfortable and attractive surface to walk on.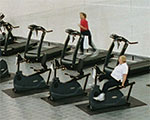 Our cardio equipment mats protect your treadmills, bikes, ellipticals, steppers, rowing machines, etc. from vibration and carpet fibers. Treadmill mats also protect your flooring from marks and scuffs.