Martial Arts Flooring
Whether you run a judo, jujitsu, aikido, grappling, mma or other martial arts facility, we have the flooring solution for you. Our flooring products offer maximum stability and surefootedness while providing superior protection for your athletes. To view our complete offering of martial arts flooring products, please visit our website: MartialArtsMatsUSA.com.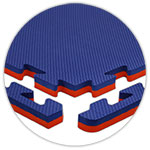 This affordable and durable mat is made with high density EVA foam. It is completely waterproof. Perfect for martial arts studios. These mats are completely reversible and easy to assemble. Available in both 2' x 2' x 7/8" and 40" x 40" x 7/8" (1m x 1m x 20mm) size.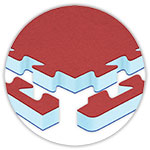 This premium grade EVA foam martial arts flooring system is designed for applications with more ground work. These mats are completely reversible, easy to assemble and are 4' x 4' x 1" thick. Each mat also comes with 3 detachable edge pieces for a finished look to your floor.
Our premium tatami floor tiles are the ultimate martial arts flooring solution. These are mats are covered in tatami textured vinyl and have multiple foam layers to provide a highly cushioned flooring with a firm, stable surface. They are most ideal for grappling intensive martial arts training and competitions.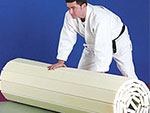 Our roll mats are great for travelling and can be rolled up and out by one person. They are available in multiple thickness to suit a range of martial arts applications.